We make Ford financing work for you here at Fairway Ford Henderson - Your trusted local Ford dealer serving Henderson, Nacogdoches, Kilgore, Carthage, and Overton, TX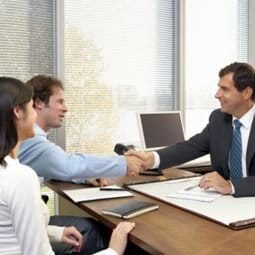 There's a lot of fun to be had in shopping for a cars these days, especially if you're interested in a Ford. However, the fun unfortunately seems to stop at financing. Sure, it's great to explore the latest Ford models, or find great deals on used cars, trucks, and SUVs. But when it comes time to get down to brass tacks in financing, you'd have to be a human calculator, or at least intensely interested in the dense financial paperwork and contracts, to actually enjoy yourself. Now, we don't claim to be miracle workers here at Fairway Ford Henderson, so while we can't make financing any more fun, we can at least make it markedly easier.
At our Henderson, TX dealership, we're always striving to improve our customers' experiences, and one of the ways we do so is by streamlining our Ford financing process. Whether you're looking into purchasing one of our latest Ford models, or want to get a car loan to finance one of the many high-quality used cars, trucks, and SUVs we have in store, we're committed to working with you to find a financing plan to fit your budget, without spending time haggling over terms at the dealership. In fact, you can even apply for credit online to get the ball rolling today, potentially saving you hours you'd otherwise spend filling out paperwork to do the same thing at any other dealership.
At Fairway Ford Henderson, leasing a new Ford has never been easier!
Our sole goal is to get you behind the wheel of your Ford vehicle of choice, and that means finding the financing solution that works for you. For some drivers, financing their vehicle to own with a car loan is the best option, but a Ford lease is an equally attractive value proposition. In fact, if you're looking to enjoy a new Ford car, truck, or SUV every couple of years, a Ford lease may just be for you.
Leasing a new Ford here at Fairway Ford Henderson allows you the freedom to enjoy the most up-to-date Ford models with markedly lower monthly payments over a shorter term than a car loan. A smart bet for low-mileage drivers and commuters across the Henderson, Nacogdoches, Carthage, Overton, and Kilgore, TX areas, Ford leasing makes it easy to explore the newest Ford models. Best of all, during your lease term, your Ford car, truck, or SUV will be under warranty, so there's no need to worry about regularly scheduled maintenance costs. And when your lease is up, you can simply bring your car in to our Henderson, TX Ford dealership and get a new one that same day!